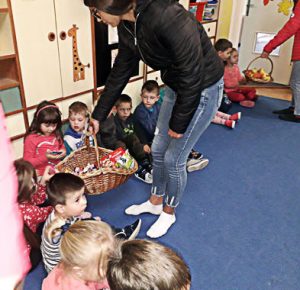 The Student Parliament has traditionally organized the humanitarian action Candy for a Smile, with the support of teachers Danijela Radnić and Ivana Vuković.
During the Children's Week, candies were collected for the Petar Pan Kindergarten in Donji Tavankut – chocolate bars, candies, bananas and other sweets. Presenting of these humble, but prepared with love, gifts took place today, October 11, in the kindergarten.The little ones and their educators could not hide smiles and pleasure and above all – their surprise with this beautiful gesture of older friends.
The aim of the action was to make little friends happy and to show them that their older friends think of them.
Translation: Miroslav Rauš