---
Project Name:
Sport connected
The final of the project "Sport Connected"
Visit to Gorjani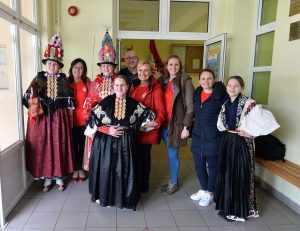 Students, teachers and the principal of our school spent two days at the school in Gorjani in the Republic of Croatia, during which the friendship between students and employees grew even more. They socialized, created stronger bonds and learned from each other.
After a warm welcome, they enjoyed listening to the verses and music that the hosts prepared for them in the sports gym. The students also had sports competitions in the gym, renovated through this project, where they were awarded certificates.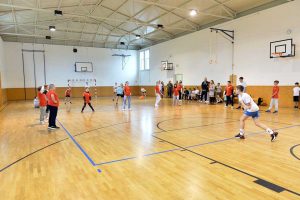 In the afternoon, there was a tour of the Church of St. James and the cultural and tourist center of Lucija Karalić, where the guests were accommodated.
The students also had workshops at "Gorjani" Elementary School. Friendship, happy smiles, laughter, jokes and joy marked this evening as well.
On the second day, they visited the Museum of Đakovo, the Đakovo Cathedral and the Lipizzaner stud farm.
The days were too short for all the activities, but enough to awaken new project ideas and proposals for future cooperation. With tears in their eyes, the students said goodbye to the hosts, with a promise to work hard to get together again soon. You can see the photos here.
Translation: Miroslav Rauš
---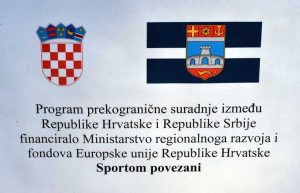 U četvrtak, 3. studenoga, naša škola je organizirala završnu svečanost povodom završetka projekta Sportom povezani, koji je na poziv Programa prekogranične suradnje između Republike Hrvatske i Republike Srbije, podržalo Ministarstvo regionalnog razvoja i fondova Europske unije i Javno preduzeće za upravljanje putevima, urbanističko planiranje i stanovanje - Subotica. Projektni partneri su: Osječko-baranjska županija, Osnovna škola "Gorjani" i naša škola. Na svečanosti su učenici obećali da će težiti ka tome da im sport postane svakodnevni izbor, te da će na ovom školskom terenu stasati novi šampioni i da će sa svojim nastavnicima koristiti i čuvati sportsku infrastrukturu.
Svečanosti su prisustvovali, i prisutnima se obratili: Miranda Glavaš Kul - pročelnica za obrazovanje i mlade Osječko-baranjske županije, Milanka Kostić - član gradskog veća za kulturu i obrazovanje i Damir Jukić - ravnatelj OŠ "Gorjani". Svi su istakli da je ovo veliki i bitan projekt za našu školu, lokalnu zajednicu, za naše učenike i mlade.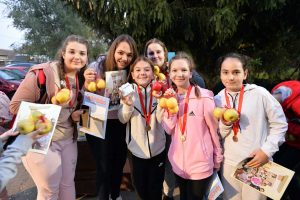 Djeca i učitelji iz Gorjana su posjetili Suboticu, gdje su obišli franjevačku crkvu, sinagogu i gradski muzej. U Tavankutu su, s djecom i učiteljima domaćinima, obišli: seosku Galeriju slika od slame, crkvu "Srce Isusovo" i etno salaš "Balažević". Nakon radionice upoznavanja odigrane su štafetne igre, gdje su spram rezultata djeca dobila medalje. Primjeri dobre prakse u tavankutskoj školi prikazani su video prezentacijom. Nakon ručka i grupnog fotografiranja održane su radionice: glagoljice, tehnike i tehnologije, slamarska i radionica izrade ukrasnih predmeta od drveta.
Dan je bio prekratak za sve aktivnosti koje smo, kao domaćini, željeli podijeliti s novim prijateljima iz Gorjana.
Uz podjelu simboličnih darova domaćina dogovoreni su novi susreti i novi projekti. You look at the picture gallery.
---
Naša škola u projektu prekogranične suradnje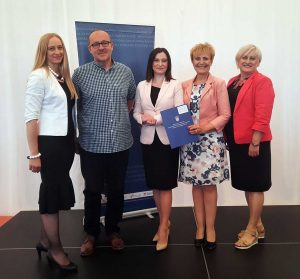 Ministrica Regionalnog razvoja i fondova EU Nataša Tramišak, 6. lipnja, je u Iloku uručila 20 ugovora o financiranju u okviru Programa prekogranične suradnje između Republike Hrvatske i Republike Srbije, ukupne vrijednosti 3 milijuna kuna.
Upravni odjel za obrazovanje i mlade OBŽ-a prijavio je projekt Sportom povezani u partnerstvu s OŠ "Gorjani" i OŠ "Matija Gubec" iz Tavankuta.
Projekt je odobren u iznosu od 130.000,00 kuna.
Ciljevi projekta su:
- Pridonijeti jačanju konkurentnosti i ostvarenju vlastitih razvojnih potencijala obaju naselja kroz osiguravanje prostornih kapaciteta za provedbu športskih događanja i
- Razviti i ojačati povezanost učenika i nastavnika između škola u projektu.