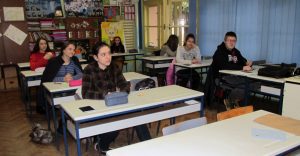 The students had the opportunity to show their knowledge of literature at the Literary Olympiad (municipal level).
The students and their mentors were welcomed by our teachers and attended the opening ceremony, which included a short program presented by our students.
The contestants were assigned to the classrooms where they did the test.
After the test, the students attended the Straw-Work Art workshop and the General Culture Quiz.
The following students will compete at the District Competition: Dijana Lacman from "Majšanski put" Elementary School, Nikola Lojpur from "Jovan Jovanović Zmaj" Elementary School and David Đorđević from "Ivan Goran Kovačić" Elementary School.
Translate: Miroslav Rauš