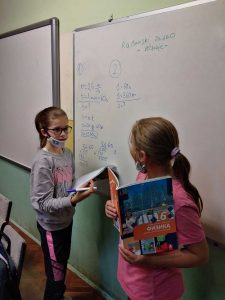 Ove školske godine Dečija nedelja je organizovana pod sloganom Dete je dete, da ga volite i razumete. Naši učenici su izabrali da jedna od aktivnosti, u toku Dečije nedelje, bude aktivnost - Zamena uloga, koju svi mnogo vole.
Na osnovu člana 15, Konvencije UN o pravima deteta (Postavljanje ili pridruživanje grupama, deca se mogu pridružiti ili osnovati grupe ili organizacije i mogu se sastajati sa drugima, sve dok to ne šteti drugim ljudima) naši učenici menjali su zaposlene u školi.
Po unapred podeljenim zaduženjima učenici su se oprobali u ulogama: direktorice (Ana Davčik - 8.b), psihologa (Nađa Kopilović - 8.b), pravnika (Andreas Damjanoski - 8.b), sekretarice (Lenka Todosijević - 8.b), bibliotekarke (Vedrana Nimčević - 8.b), tetkica (Bojana Knežević, Dunja Nimčević, Dajana Vojnić Bukvin, Marijana Kinčeš - 8.b) majstora (Nemanja Stantić, Nikola Galić - 8.b) i nastavnika.
Deca su na ovaj način spoznala kakav je osećaj baviti se određenim vrstama posla u školi. Aktivnost se realizovala u toku trećeg časa prepodnevne smene.
Koordinatori aktivnosti bili su: Učenički parlament, nastavnica Danijela Radnić i članovi fotografske sekcije koji su ispratili aktivnost drugog dana Dečije nedelje. You look at the picture gallery.