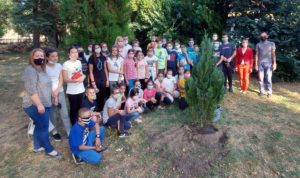 Planting trees is one of the most beautiful and noble gestures that man can make towards nature.
Tree Planting Day was initiated in Finland in 2004 and is linked to raising public awareness of climate change.
changes and different ecosystems on Earth.
Representatives of the Student Parliament, together with friends and teachers, on Monday, September 21,
planted a cypress seedling in the school yard, on the occasion of marking the Day of Tree Planting. Cypress is a gift
from Goranski rasadnik Subotica.
The students promised that they would take care of the planted tree and that they would tradition to continue in the coming years. You look at the picture gallery.
Translation: H.R.A.M.