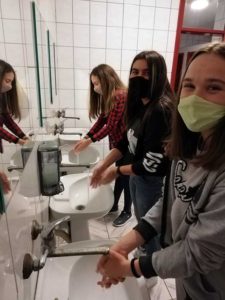 For the first time in the world, but also in our country, the World Clean Hands Day was marked on October 15, 2008. The main goal of this day is to develop a culture of proper hand washing - both adults and children.
Every year, 3.5 million children do not experience their first birthday due to diarrhea and pneumonia, and all due to lack of hand hygiene - soap.
Hand washing is a simple, but saving, measure and should be turned into everyday automatic and practical behavior of every person. That is why the students of 7th grade, together with the chemistry teacher Slavko Benčik, researched how to make homemade soap, which was also used by our grandmothers. On that topic, they designed and arranged a board so that other students of our school could get acquainted with the technique of making homemade soap. Together with the biology teacher, Ljiljana Jurčak, they renewed and determined the knowledge about proper and thorough hand washing with soap and warm water.
Translation: H.R.A.M.