School year 2019/20.
---
Project name:
Back to the Future
Visit of students and teachers from "Podmurvica"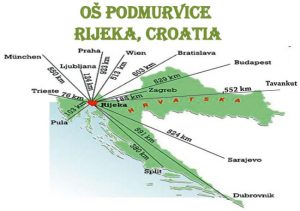 As part of the Back to the Future project, ten students, teachers and the principal of the Podmurvice Elementary School from Rijeka visited our school. The citizens of Rijeka will be visiting Tavankut from September 26 to 29, during which time they will show their skills of making traditional mask decorations, map natural and cultural sites of Tavankut, visit the farm of Tome Vojnić Mijatov, and also visit Subotica.We will also take our guests to the Fruit Festival and we will also teach them how to make straw ornaments.
We believe that the citizens of Rijeka will bring a handful of beautiful impressions, and we look forward to meeting each other in return and continuing.
Translation: H.R.A.M.
Dating, socializing and learning (Part 1)
Socializing and learning (Part 2)

See a record of a visit from a student from "Podmurvica" to our school
School year 2018/19.
---
Project name:
"Huliganizam stop, mi volimo sport"
Učenici protiv nasilja
U okviru "Dečije nedelje", u petak 04. oktobra, u našoj školi je održana manifestacija pod geslom "Huliganizam stop, mi volimo sport!"
Nakon učešća na akreditovanom seminaru za nastavnike: "Odrastanje bez alkohola, droge, kocke, sekti i nasilja" , u Tavankutu se okupilo 70 učenika u pratnji svojih nastavnika iz subotičkih osnovnih škola: "Sečenji Ištvan" , "Matko Vuković", škola "Vladimir Nazor" iz Đurđina i "Ivan Milutinović" iz Male Bosne.
Goste su dočekali tavankutski učenici i nastavnici, a nakon kratkog upoznavanja i pokazivanja škole svi zajedno su učestvovali u radionicama na temu nasilja, sa akcentom na nasilje na sportskim manifestacijama. Shvativši i produbivši svoju svest o važnosti sportskog takmičenja i pravilnog odnosa prema zdravom životu, učenici su se, u duhu poznatog De Kubertenovog gesla: "Važno je učestvovati", uputili na sportske terene gde su odmerili snage u fudbalu, košarci i odbojci na pesku.
Nakon sportskih igara druženje je nastavljeno u dvorištu tavankutske župne crkve gde je sve učesnike projekta dočekao i ručkom počastio župnik Franjo Ivanković, uz lakumiće naše kuvarice Anice Crnković.
Projekat je finansijski pomogao, i time ga omogućio, Pokrajinski sekretarijat za sport i omladinu.