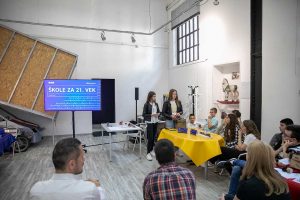 U četvrtak, 12. maja, u Muzeju nauke i tehnike u Beogradu održano je Državno takmičenje u programiranju na mikrobit uređajima, u okviru programa Škole za 21. vek. Na takmičenju je svoje projekte prikazalo i branilo 20 timova, od preko 200 projekata, koji su bili prijavljeni. Naša škola se predstavila sa tri projekta:
1. Edukativni roboti - Nikola Vajhand i Bogdan Kovačević, učenici 6.b i 6.a odeljenja;
2. Zaštitnik ptica - Lara Šegina i Bojana Đukić, učenice 6.a odeljanja i
3. Sačuvajmo šume - Teolinda Glavaš i Vedrana Nimčević, učenice 7.a i 8.b odeljenja.
Takmičenju su prisustvovali i ambasadorka Velike Britanije u Republici Srbiji, Njena Ekslencija - Sian MacLeod, ministar i pomoćnik ministra za predškolsko i osnovno obrazovanje i vaspitanje: Branko Ružić i Milan Pašić i direktorka za Srbiju i Zapadni Balkan pri Britanskom Savetu - Clare Sears.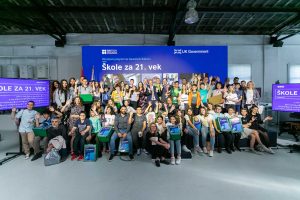 Učenici su, pred tročlanim i stručnim žirijem, imali pet minuta za prezentaciju i demostriracju svog projekta i pet minuta da odgovore na pitanja članova žirija. Posle većanja, žiri je proglasio pobednike. Naša škola nije uspela osvojiti niti jedno od prva tri mesta, ali smo bili jedina škola sa tri projekta. Svi učenici su dobili prikladne nagrade. Najznačajnija nagrada je nagrada za školu, a to je kutija sa 10 micro:bit uređaja unapređene verzije i sa raznim dodacima, značajne materijalne vrednosti za svaki tim - projekat. S obzirom da smo imali tri tima, škola je dobila i tri kutije. You look at the picture gallery.