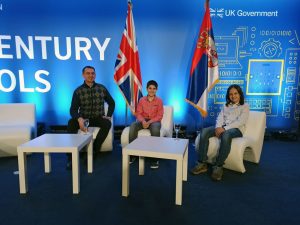 At a ceremony held in Belgrade on January 28th, British Council donated 17,500 micro:bit computers to representatives of schools in Serbia participating in the education program "21st Century Schools", funded by the UK Government.
Principals of 480 Serbian elementary schools attended this ceremony. These schools received micro:bit computers which will be used by their students for programming. micro:bit computers were given to elementary schools from the cities of Belgrade, Novi Sad and the cities of Western Serbia. The event was attended by Ana Brnabić - Prime Minister of the Republic of Serbia, Mladen Šarčević - Minister of Education, Science and Technological Development, Shan McLeod - British Ambassador to Serbia and Claire Sears - Director of British Council in Serbia.
» More...
During the ceremony, an exhibition of
micro:bit
projects was also organized. The exhibition presented the most successful and creative projects realized by elementary school students with the help of
micro:bit
devices during the program so far. Our 7th grade students, Ognjen Berberović and Stefan Saulić, who won the programming competition held in Zrenjanin on November 29 last year, presented our awarded school project
Clone of the Gupceva Lipa - Phenological Meteorological Measurements
. Our project was one of only ten projects shown in this exhibition. The Prime Minister of the Republic of Serbia, the Minister of Education, Science and Technological Development and numerous guests visited the exhibition and talked to the students, who presented their works to them.
There was also a panel discussion attended by representatives of schools and ministries, where attendees had the opportunity to discuss the application of new technologies in Serbian education system and hear the experiences of Dalibor Todorović, an IT teacher, awarded for the best held lesson using
micro:bit
computers.
» ...Less
Translation: Miroslav Rauš