In the organization of the Subotica Police Directorate, on Tuesday, October 9th, students of the sixth grade attended a lecture on the topic "Police in the service of citizens". The pupils had the opportunity to get acquainted with the basics of the police profession and to what ways the citizens can help preserve order and peace.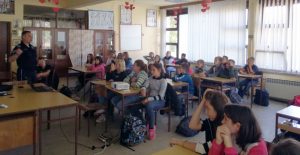 Students were particularly interested in the presentation of police equipment, weapons and vehicle fleet, and then a series of questions ended the most useful time.
The lecture will continue in the coming months as well.