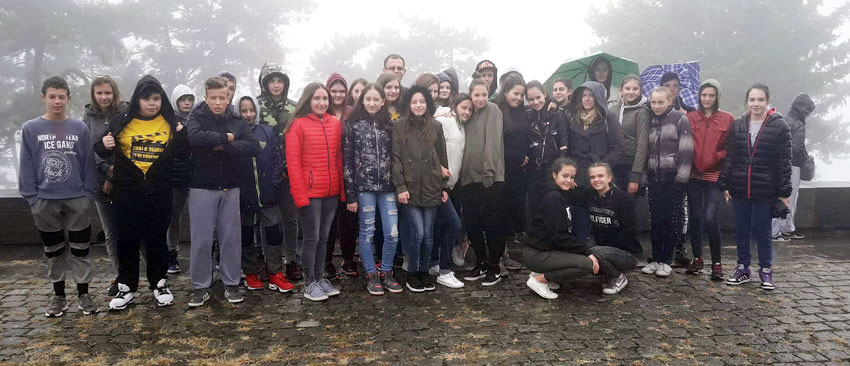 During the two-day school trip, the students of the seventh and eighth grades visited several important tourist destinations on October 3 and 4, 2019, accompanied by their teachers Sonja Zvekić, Milena Predojević, Anita Kopilović, Miroslav Rauš and Slavko Benčik.
The first day we visited Mount Avala and the Avala TV tower. Next stop was
the archaeological site Viminacium near Kostolac, the Roman military headquarters and the capital of the Roman province, Moesia Superior. In Viminacium we also visited an exhibition presenting portraits of 18 Roman emperors born in the territory of modern-day Serbia, cast in bronze and a detailed model- the reconstruction of the civil settlement and the legionary fort of Viminacium. A special attraction within the Viminacium archeological park is the paleontological park where mammoths discovered in the Drmno surface mine and on the outskirts of the Roman site are presented. The most significant finding is the mammoth, preserved in its entirety, known as Vika.
Upon arrival in Despotovac, we settled in the lodge "TLS Company". After dinner, there was a disco night.
» More...
The second day we visited the Manasija monastery, which was built by the Serbian despot Stefan Lazarević at the beginning of the 15th century. The monastery is famous for the Resava school. Monks who nurtured literature and copywriting gathered there.
We also visited Resavska cave, our biggest and most beautiful cave, accompanied by a speleologist. During the visit, a class of Serbian was held and the poem "Manasija" by Vasko Popa, was analised by students.
Next stop was Svilajnac, where we visited the Natural History Center of Serbia. The students were presented with a mix of science, education, history and tourism through the exhibitions The World of Dinosaurs, The World of Minerals and Rocks, Africa Animals, Geological Time Travel, Geodiversity of Serbia, Mammoth Kika, Biodiversity of Serbia, Sky Rocks and The Volcano.
We returned home full of positive impressions.
» ...Less
Text: Miroslav Rauš