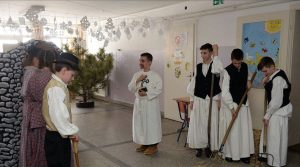 On Saturday, January 26, 2019, our school celebrated the school glory of St. Sava. All those who were enrolled, students and parents enjoyed watching the program organized by students of higher and lower grades, together with their teachers.
The first celebration of St. Sava, school glory, was in Sremski Karlovci in 1735, when the anthem "Uskliknimo s ljubavlju" was sang for the first time. On 13 January 1823, Prince Miloš Obrenović passed a law according to which the St. Sava must be celebrated in all schools, and so it is today.
(See the picture gallery)
Translation: H.R.A.M.