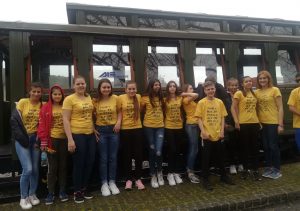 During the two-day school trip, the students of the 7th and 8th grades visited several important tourist destinations on April 10 and 11, 2019, accompanied by their teachers: Danijela Radnic, Slađana Knežević, Miroslav Rauš, Slavko Benčik and Kristijan Milanković.
A professional guide from the Tourist Agency "Profis" and a doctor from the Health Center Subotica were also present.
We started our journey on Wednesday, April 10th.
Route: Tavankut - Novi Sad - Sunčana Reka - Bajina Bašta - Tara - Zlatibor - Tavankut.
» Read more...
We first visited the
Sunčana Reka
(
Sunny River
), a resting place and a recreation center on the most beautiful part of the Drina and saw the place where the famous TV series "The Sin of Her Mother" was filmed.
Then we drove along the Drina highway to Bajina Bašta and Perućac Lake, followed by a panoramic view on the Hydro Power Plant
Bajina Bašta
.
We enjoyed the visit to the river Vrelo, the shortest river in Serbia with beautiful waterfalls and the mouth of the river Drina.
Then we came to Tara, where we were accommodated in the hotel "Beli Bor". After accommodation and delicious dinner, the students socialized, played sports games in the sports area of the hotel, and in the evening they had an organized party in the disco club. Everyone had a great time while socializing and dancing.
The following day, after breakfast, we left the hotel and headed towards
Mećavnik
. There we visited Kusturica's film town of
Drvengrad
and watched a short film in the underground cinema.
The next stop was
Mokra Gora
. Then we enjoyed a beautiful ride on the popular ethno train
Ćira
, which runs on the narrow-gauge heritage railway on the
Šargan Eight
. The ride lasted for two hours with several stops.
After lunch, we went to Zlatibor and enjoyed a visit to
Stopića Cave
, accompanied by a speleologist.
After a thrilling journey, filled with positive impressions, we headed towards Tavankut and ended this wonderful trip.
» ...Less
Translation: Miroslav Rauš