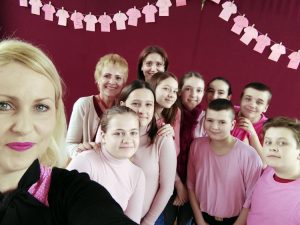 On Wednesday, March 4th, our students participated in a competition to commemorate the Anti-Bullying Day, known worldwide as the Pink Shirt Day. "Jovan Mikić" Elementary School in Subotica organized this event, for the second time, under the motto "Your friend implores you: Don't insult - it hurts", which was also the topic of the competition.
The following Elementary Schools participated in this competition: "Jovan Mikić", "Ivan Goran Kovačić", "Sečenji Ištvan", "Sonja Marinković" and "Jovan Jovanović Zmaj" from Subotica, "Matija Gubec" from Tavankut and "Vuk Karadžić" from Bajmok.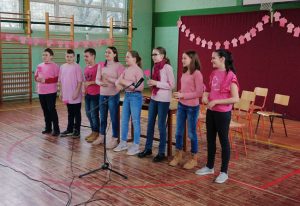 Out of nine acts shown in the competition part of the program, our school students won first place by performing a dramatic act called "Let love shine everywhere", with a music number. The author of the text is Aleksandra Antal, our 8th grade student. Students were mentored by Sladjana Knezević - Serbian Language teacher and Danijela Radnić - Student Parliament coordinator.
Second place went to the student of "Jovan Jovanović Zmaj" Elementary school, Aleksandar Macura, who performed the musical number "I believe, I do not believe". This number was prepared by Dragana Sinobad - Music teacher.
Third place went to 7th grade students from "Jovan Mikić" Elementary School, who performed the play "Don't Let Me Be a Target". The author of the script is Jelena Damjanović, a 7th grade student. The students' mentor is Snezana Čutura, Serbian Language teacher.
Congratulations to all participants, especially the award-winning students and their mentors.
See The picture gallery Check out the dramatic show Let love shine everywhere.
Translation: Miroslav Rauš