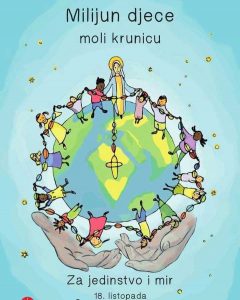 Međunarodna papinska zaklada Aid to the Church in Need (Pomoć Crkvi u nevolji) provodi svoju godišnju inicijativu pod nazivom "Milijun djece u molitvi krunice", ove godine s posebnim naglaskom na anđele čuvare. Papinska zaklada je pozvala sve župe, škole i obitelji da sudjeluju u spomenutom godišnjem molitvenom događaju. Inicijativa je nadahnuta riječima sv. Padre Pija: "Kada milijun djece bude molilo krunicu, tada će se svijet promijeniti."
Naša škola je prihvatila ovu inicijativu i nas stotinjak je molilo krunicu na časovima Katoličkog vjeronauka. Djeca su na koljenima u crkvi molila za mir u svijetu. Iz učionice se čula snažna i glasna molitva za mir i prestanak rata u svim zemljama svijeta. Čvrsto smo držali svojim rukama najjače i najmoćnije oružje protiv zla - KRUNICU! Gospin je mjesec i na blagdan sv. Luke 18. listopada, koji u svom evanđelju najviše piše o Isusovom djetinjstvu, djeca su molila krunicu za mir i ujedinjenje svijeta u - preko 140 zemalja.
Naša škola je bila dio svjetskog molitvenog lanca - gdje milijun djece moli krunicu. You look at the picture gallery.