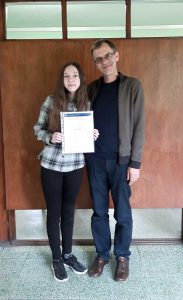 On Sunday, 10 Apr 2022, "Sveti Sava" Elementary School in Subotica was the host of the District English Language Competition. Our student, Ana Davčik (8.b) won 1st place. Ana won the maximum number of points (40) and qualified for the National competition. This is the first time that our school will have a representative at the National competition.
We congratulate Ana on the results achieved!
You can see the ranking here.
Tekst: Miroslav Rauš