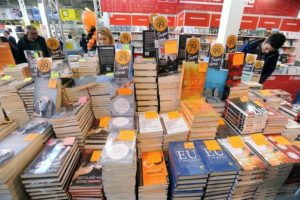 International Fair of Books and Teaching Aids, The Interliber, took place from Tuesday, November 13 to Sunday  November 18. Students, teachers and parents attended this fair and the tour was organised by our school. After visiting numerous fair stands, we attended the presentation of the book Croatian Spring and the Croatian political emigration by the young Croatian scientist Wollfy Krasic and received gifts from Ante Žužul, Ph.D, CEO of  Školska Knjiga publishing house.The visit to Zagreb continued with a short visit to the city center , after which we attended the performance Huddersfield at The Zagreb Youth Theater.
On the second day of the tour, we visited Ogulin, the Croatian city with extremely rich history, and beautiful landscape as well. Within the Ogulin Frankopan castle, besides the museum space, there is also The House of Fairy Tales dedicated to the most famous Croatian children's writer Ivana Brlić-Mazuranić, who was born in Ogulin. Numerous fairy tales of this Croatian Andersen were revived in the museum setting The House of Fairy Tales. In the immediate vicinity of the Francopan castle there is the famous Đula's chasm, a place where river Dobra ends. Then we were hosted by the Ogulin City Library, whose employees presented its rich collection. We also went to the Oštarska parish where the parish priest Ante Luketić welcomed us to the Church of the Assumption of the Blessed Virgin Mary. Presenting his extremely rich collection of books, the parish priest Luketić told us about the history of the Ogulin region, as well as the history and development of the Glagolitic script. During this time, the youngest showed their knowledge of the Glagolitic script at the workshop Small Oštar glagolitas, which was designed and led by Mirjana Grubišić, a teacher from Oštar.
Before leaving, we exchanged gifts with our hosts and agreed to continue the cooperation in Tavankut.
A visit to Interliber, which has been organized for several years, was financially supported by the City of Zagreb, the County of Zagreb and Školska Knjiga publishing house. (See the picture gallery)
Translation: M.R.